I love the Earth so much that my child's middle name is Pacha, which is the Quechua for earth, space, and time. I want to take care of the Earth and I want to instill that care in my children. My family definitely plays hard in the outdoor spaces around us which creates long lasting memories, a deep love, and responsibility for these lands in my children.
Children practice what they see and hear so I love when I see my children asking others to pick up trash or to put things in the recycling bin. When my two year old sees trash on the ground he runs over, picks it up and takes it to the trash can.
Earth Day is every day, but it Earth Day officially started on April 22, 1970. Forty-seven years later, millions of people have been celebrating Earth Day around the world. On this upcoming Earth Day, April 22, 2017, I encourage your family to participate and learn how to give a little love to Pachamama a.k.a Mother Earth. Here are five ways your family can enjoy and particpate in Earth Day.
#1 - Participate in a Clean-Up Activity
The first time we ever participated in a clean-up event was when my second child was 2 years old! We cleaned up Limantour Beach at Point Reyes National Seashore for National Trails Day and my kids had a blast. There are clean up events that are family-friendly with no age restrictions, but you must read the fine details and sometimes email or call the organizer to make sure.
International Coastal Clean-Up Day was September 17, 2016 where my family and I were able to participate in a coastal clean-up event at Don Edwards San Francisco Bay National Wildlife Refuge. Even in the small area we cleaned up we were able to pull out two bags of trash! As a Dawn Amabassador, Dawn provided a small "Thank You" to volunteers who helped clean up the shorelines and gave out Dawn dish soap of course!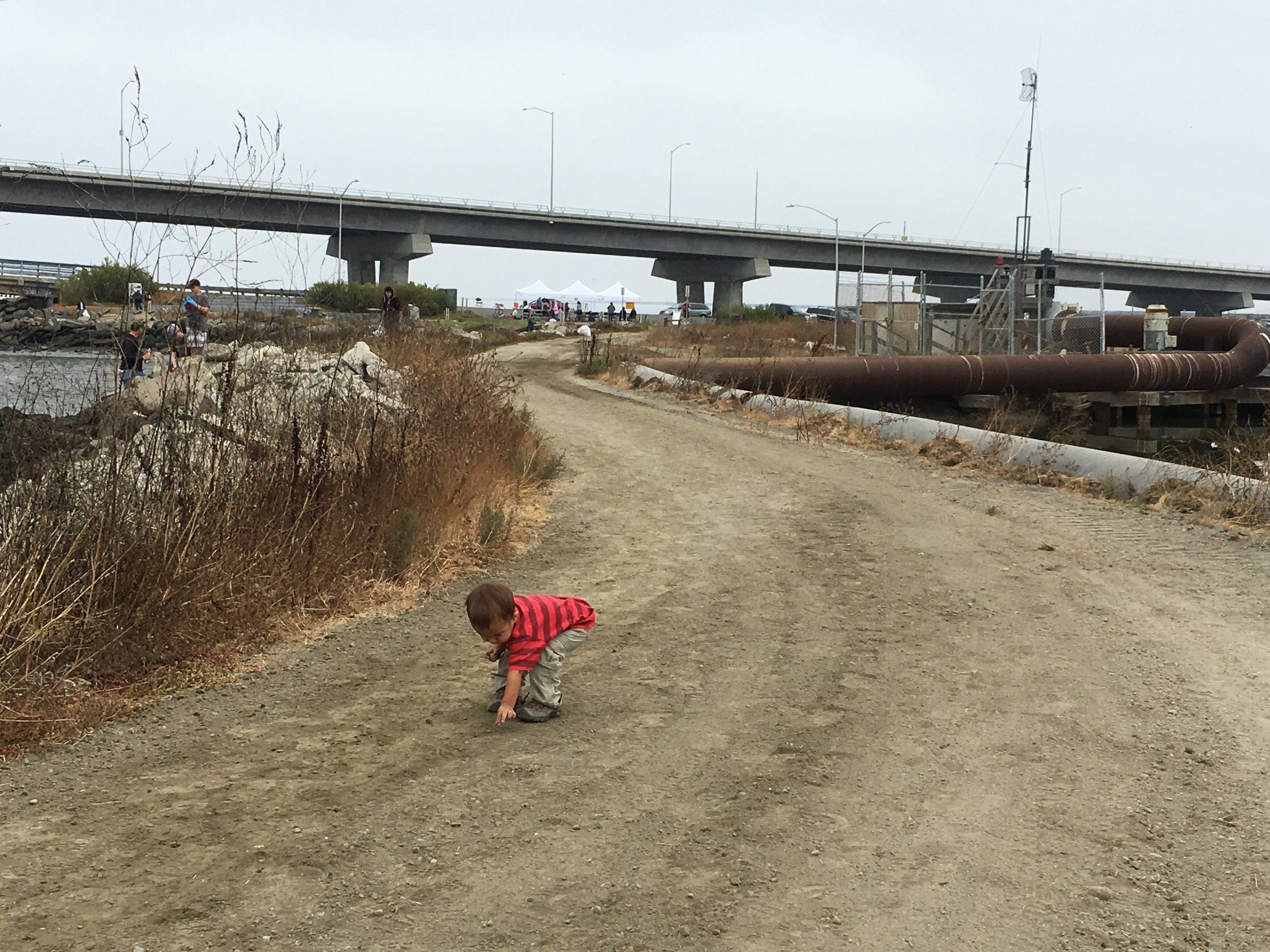 If your kids are like mine that hate to clean up their room, you will see how much they will LOVE cleaning up the park, I'm not being sarcastic! There are many clean-up events during Earth Day but there are organized clean-up days all through out the year, so make sure to check your local, regional, state and National Park park websites.
Family Tips: Treat this "Clean-Up" event like any other outdoor outdoor activities. Bring sun protection, water, snacks, lunch and remember to take breaks to rest and explore. Gardening gloves are a must to protect your kids hands from sharp objects or nasty items.
#2 - Attend an Earth Day Fair
Earth Day Fairs are so fun and informative! During last years Earth Day fair our kids participated in a bike rodeo where a local biking organization taught our kids how to safely bike around streets. I received information on how to create a drought friendly garden and a plethora of information of how to conserve energy and to "Go-Green" in my every day life. Lots of organizations come out and give out lots of awesome freebies too so that's always a plus!
Family Tip: Check your local city government for Earth Day family friendly events.
#3 - Go Enjoy an Outdoor Activity
This is one of my favorite "Earth Day" activity because how do you instill the love of taking care of something if you don't learn to enjoy it!? Go for hiking, running, biking, kayaking, running in an outdoor space whether it's a local city park or deep in the woods.
Spend family time burning some calories while making long lasting memories out in nature. The desire to take care of something is built over time so spend time with the earth with your family and your family will want to take care of it!
#4 - Bike to Work or School
Like I said earlier Earth Day is every day, so a way to help on a daily basis is to bike (or walk) to work, school or anywhere! I know this might seem like a monumental task but chose something small to start with like instead of driving to the supermarket bike or walk there. Bike to Work Day is coming up in May and that could be a goal to strive for.
For families with kids, try biking to school once a week. You can read more about how I bike to school with my kids at: "Balanced Kids: Biking to School".
NOTE: Dawn is a great soap to wash bikes, we use it all the time.
#5 - Recycle, Reuse, Renew, Compost
This is an oldie but a goodie. I recently traveled out of state and I forget how other places don't recycle, so try to recycle, renew, reused as much as you can. Learn about your cities recycling limitations on what you can and can't recycle.
Composting is something my family started doing a couple years back and combined with recycling we literally reduced our trash to half of what we were throwing away each week. Composting is also a great way to introduce your kids to the science of decomposing and you can even start a garden! Lastly, you can learn how to reuse old items to decorate the backyard instead of pitching it to the landfill.
By participating in Earth Day events, you help protect the environment, wildlife and create a healthier environment for your family and future generations. A beach cleanup prevents birds and marine mammals from eating trash or getting tangled in it. Recycling helps reduce the amount of trash that ends up in landfills, biking around town reduces traffic and gas emissions into the air and getting outdoors creates a love for the earth.
Over the last three years, I have worked with Dawn and how generous they are with saving wildlife. They partner with The International Bird Rescue and The Marine Mammal Center in California and help save thousands of marine mammals and birds. These organizations couldn't do all the amazing work without their volunteers and help from Dawn, and if you are currently looking for volunteering hours The Marine Mammal Center are currently in need for volunteers! The International Bird Rescue and The Marine Mammal Center have saved thousands of animals and from injuries, malnutrition or human-caused accidents.
You can also join in on my Social Media, which is updated daily with outdoor activities. Join in on the conversation by leaving a comment below!