Bear Lake sits in the Emigrant Wilderness near Pinecrest, California at about 7,500 ft. Bear Lake is 3.5-4.5 miles to Crabtree Trail-head so it makes it a perfect location to take a family backpacking. The lake provides lots of opportunities to swim, fish and the granite rocks provide giant slides for kids to enjoy, not to mention breathtaking sunsets.
Over 4th of July week, we decided to do a two-night backpacking trip to Bear Lake. Our original plan was to spend one day hiking into Bear Lake, another day recovering and then hike out on the third day. When we got to the Ranger Station we were told that they only allowed a one-night stay at Bear Lake because it's a popular location, which was a little disappointing but we are flexible.
I often get asked, "What is the difference between backpacking and camping?". Backpacking is where you hike into your campsite and you carry EVERYTHING in. The second question I get asked is "why do you backpack if it's significantly harder than car camping with kids?" My answer is always the same: because you can find beautiful locations without the crowds, that you can not get to by a car. My secondary sneaky answer is that I'm training my kids now to someday hike to Machu Picchu and Choquequirao in Peru. My third answer requires me to write a very long blog post where my I must ramble through my thoughts on backpacking as a family, which I will write some day soon.
Backpacking Trip Report: Bear Lake - Emigrant Wilderness
Parks: Stanislaus National Forest & Emigrant Wilderness
Camp Location: On the granite shores of Bear Lake on established primitive campsites.
Mileage: Approx. 9 Miles Roundtrip - Out and back (Per Strava)
Elevation Gain: Approx. 800 ft to Bear Lake & Approx 300 ft to Crabtree Trail-head from Bear Lake.
Time: 2 Days/1 night - July 2018
Amenities: Use established campsites at Bear Lake. No Restrooms. Must Filter Water from Lakes. Collect fallen wood for fire.
Reservations: No reservations are required, but there is a limit to one night at Bear Lake and wilderness permit required a no cost (Free). The permit required to camp at Bear Lake can be obtained at the Summit Ranger Station at Pinecrest.
Backpacking Families: I always like to keep it real with parents, this was a hard hike with kids. The hike itself isn't hard but carrying a lot of weight makes harder on kids and parents. Any incline can be felt with large pack especially if you carrying a baby or a toddler.
Trail Directions (Per the National Geographic Map)
Start at Crabtree Trail-Head, cross the bridge and follow the Camp Lake Trail-Marker 20E16 trail and head south for 1.3 miles towards Bear Lake. Most of the uphill climbing will be in the section. Per Strava this segment is 1.5 miles to the junction to Camp Lake (20E16) trail and Pine Valley (19E10).
Continue east to towards Camp Lake (20E16) for 1.3 miles to the east end of the lake. You will enter into Emigrant Wilderness right before the Camp Lake begins. Per Strava this segment is 1.4 miles.
Head Northeast for 1 mile to Bear Lake at the trail-marker (19E09) Per Strava this segment is 1.5 miles.
This is an out-and-back trail, so the return trek is in reverse order.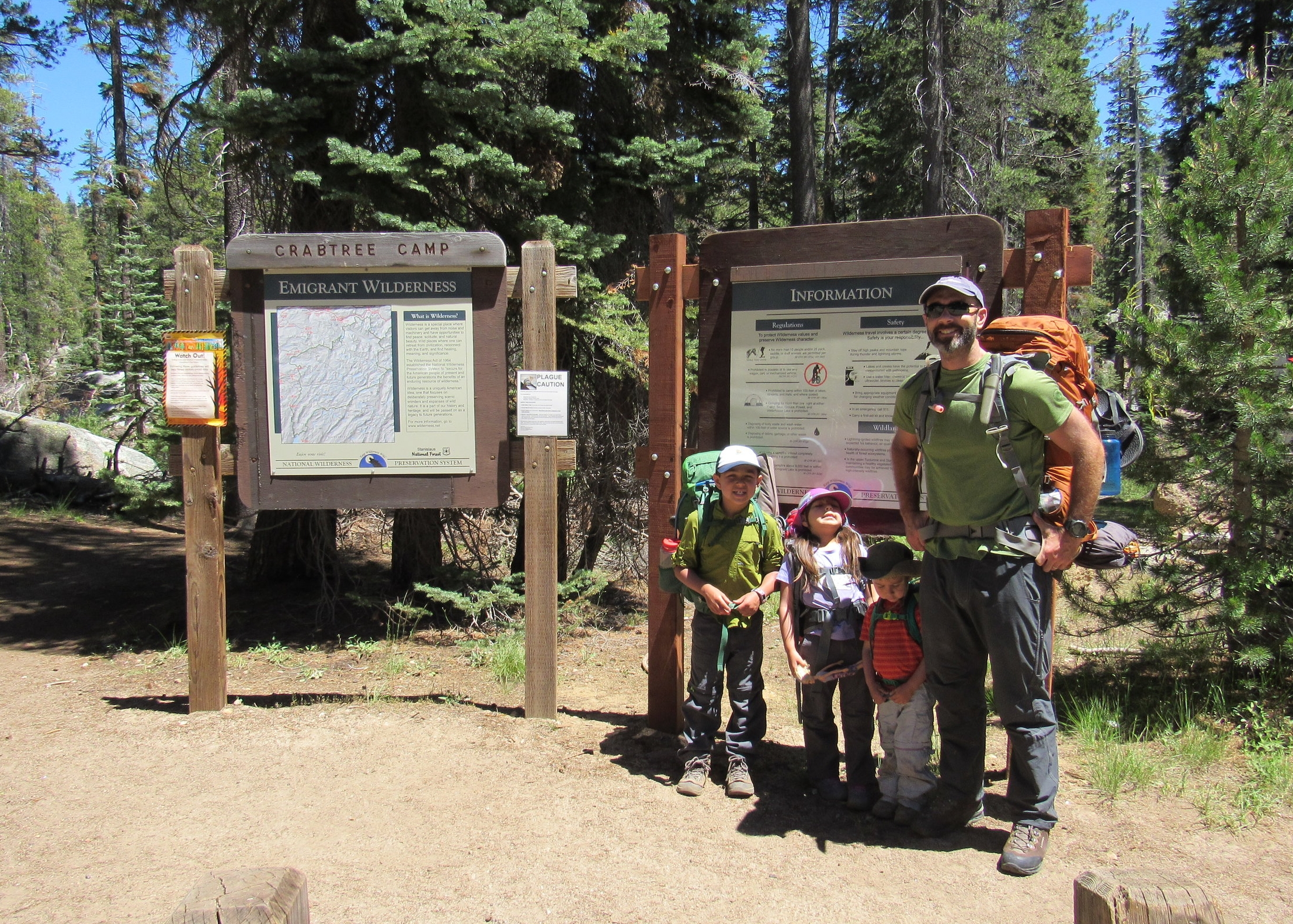 Day 1: Crabtree Trail-head to Bear Lake Camp
There's a lot of driving, permit collecting and junior ranger activities to do before actual backpacking begins, so here's a little timeline of how Day 1:
9:00 a.m. - Leave Home for a 3-4 hour drive to Ranger station (including bathroom breaks)
1:00 p.m. - Arrive at Stanislaus National Forest Summit Ranger Station. Acquire Wilderness Permits
1:15 p.m. - Get Junior Ranger Badges!
1:45 p.m. - Arrive at Crabtree Trail Head Directions from Summit Ranger Ranger Station.
2:00 p.m. - Finally packing and the trail-head and start hiking!
Day 1: The Story
I would love to say that my children happily started hiking but my daughter (6 years old) refused to have lunch which of course set the tone of the rest of hike. She was sleepy from the car ride and for some reason refused to eat lunch.
No food + Sleepiness + Backpack + Slight Uphill = Cranky Kid Not Hiking
Well, a child hiking REALLY slow with lots of whining...from the very beginning. I always expect whining when we are backpacking but not from the first second we hit the trail. The first section of the hike is most of the climb for the whole trek but it is exposed so even though it was 70 degrees it felt very warm. Despite all of that we made it to the first trail-marker with LOTS of breaks and Jelly Beans. By then my daughter decided to actually eat and she got her normal gusto back, sort of.
This is the first backpacking trip we brought fishing gear, so the kids were eager to get to Bear Lake to fish. We took an extended break at the first lake, Camp Lake where we had snacks and I filtered some cool lake water. My kids haven't been backpacking in a while so they were a little hesitant to drink filtered lake water, but they eventually got over it. My son was sitting on a log and he saw a snake swim by in the water, which he's never seen before. Quite exciting and scary for him!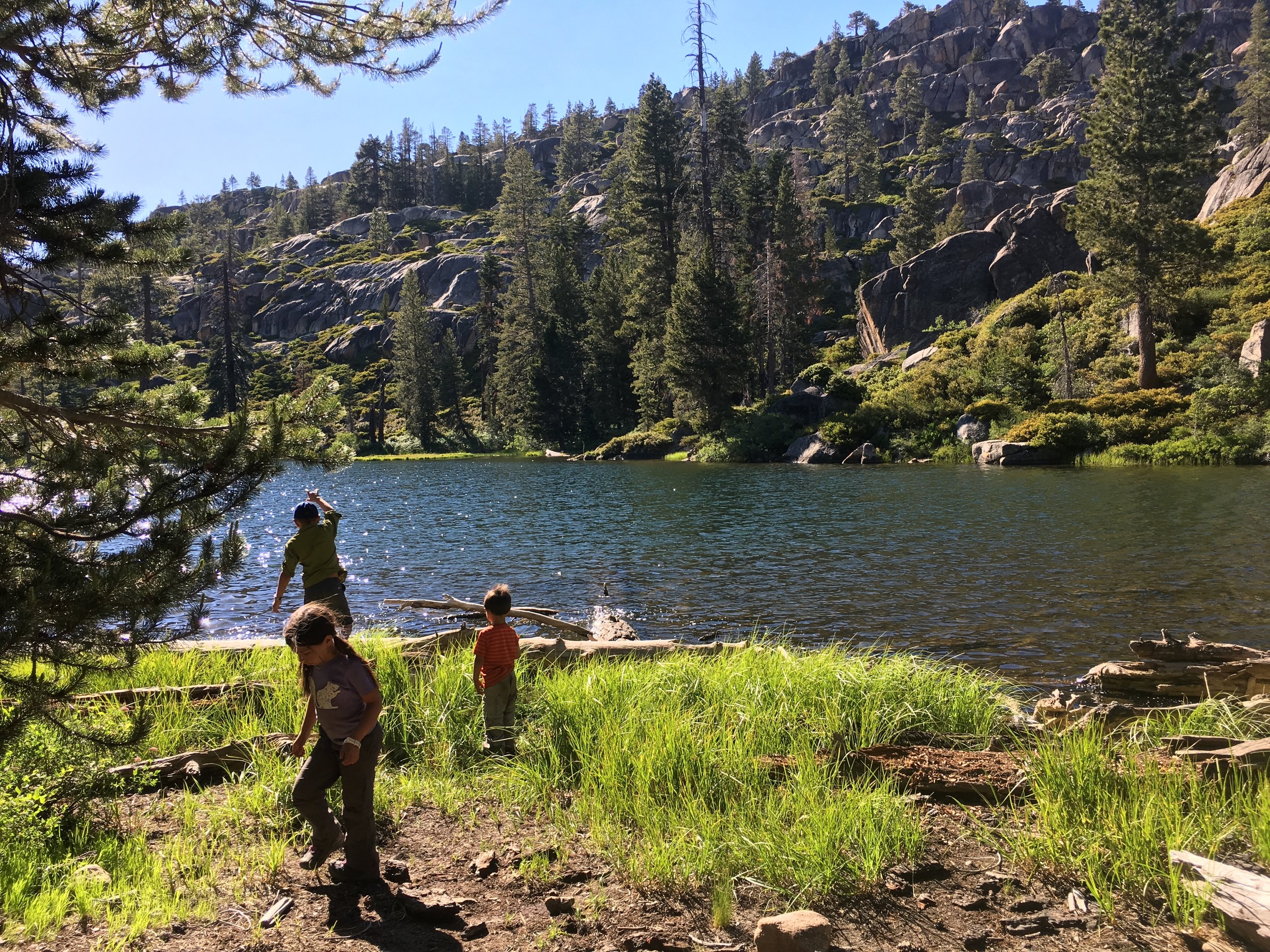 The remainder of the hike was very beautiful as the Sierras usually are and the kids were in a happier mood which made the last section to Bear Lake more enjoyable. I was getting very tired and I couldn't wait to see Bear Lake to look for a great campsite which we definitely found. There aren't campsite "numbers" but there are established campsites and we found a large granite campsite that fit our two tents with room for our kids to run around comfortably.
I was starting to get a slight headache when we reached our campsite probably because I didn't drink enough water during the hike in. Long story short, I sweat a lot due to some medications which means I have to drink excessive amounts of water with electrolytes. On the drive in, my hydration mouth piece was squished and I lost about 1.5 liters which I didn't know until we were hiking on the trail and ran out real quick. I drank from everyone else but I'm super sensitive to migraines and dehydration so it triggered a headache.
We were all glad to stop hiking but there was a lot of work to be done; setup camp, cooking and of course we had to go fishing after all the promising we did on the trail.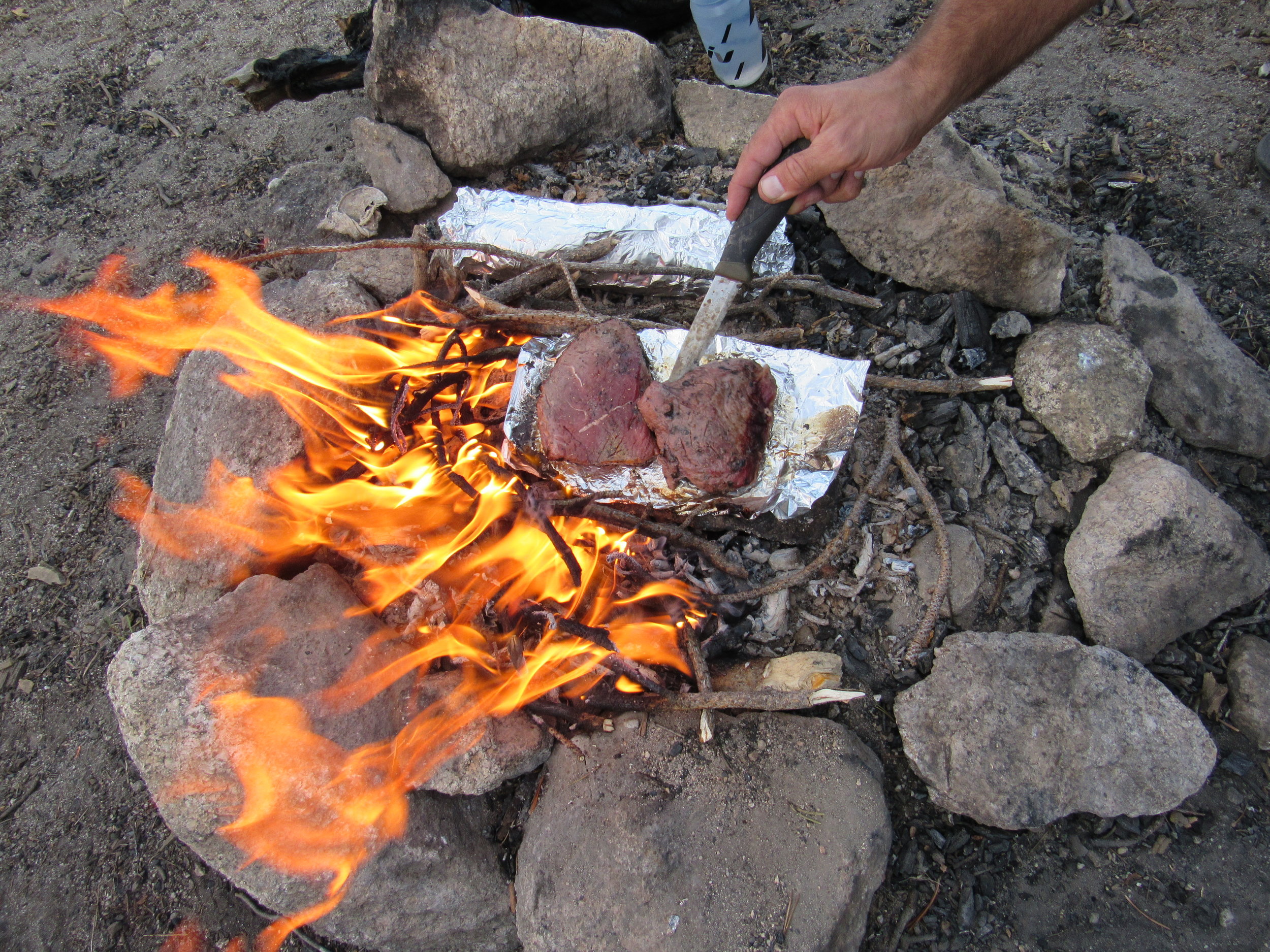 After a delicious meal of steak, asparagus and mashed potatoes, my husband took the kids down to the lake for some fishing while I cleaned up dinner and continued setting up camp and enjoyed one of the top ten sunsets of my life! No fish were caught and the kids were very tired. I prepared the kids for bed and my husband finished cleaning up and getting our bear canisters ready. Once that was all done my husband and I went to bed.
Day 2: Bear Lake Camp to Crabtree Trail-head
It was a very warm night which didn't allow for restful sleeping on my part and even though I took some Tylenol, my headache kept getting worse and I woke up around 5 a.m. and took some of my strong migraine medication. Our children slept well so they were all in a more restful mood for breakfast and were excited to try fishing again and go for a swim!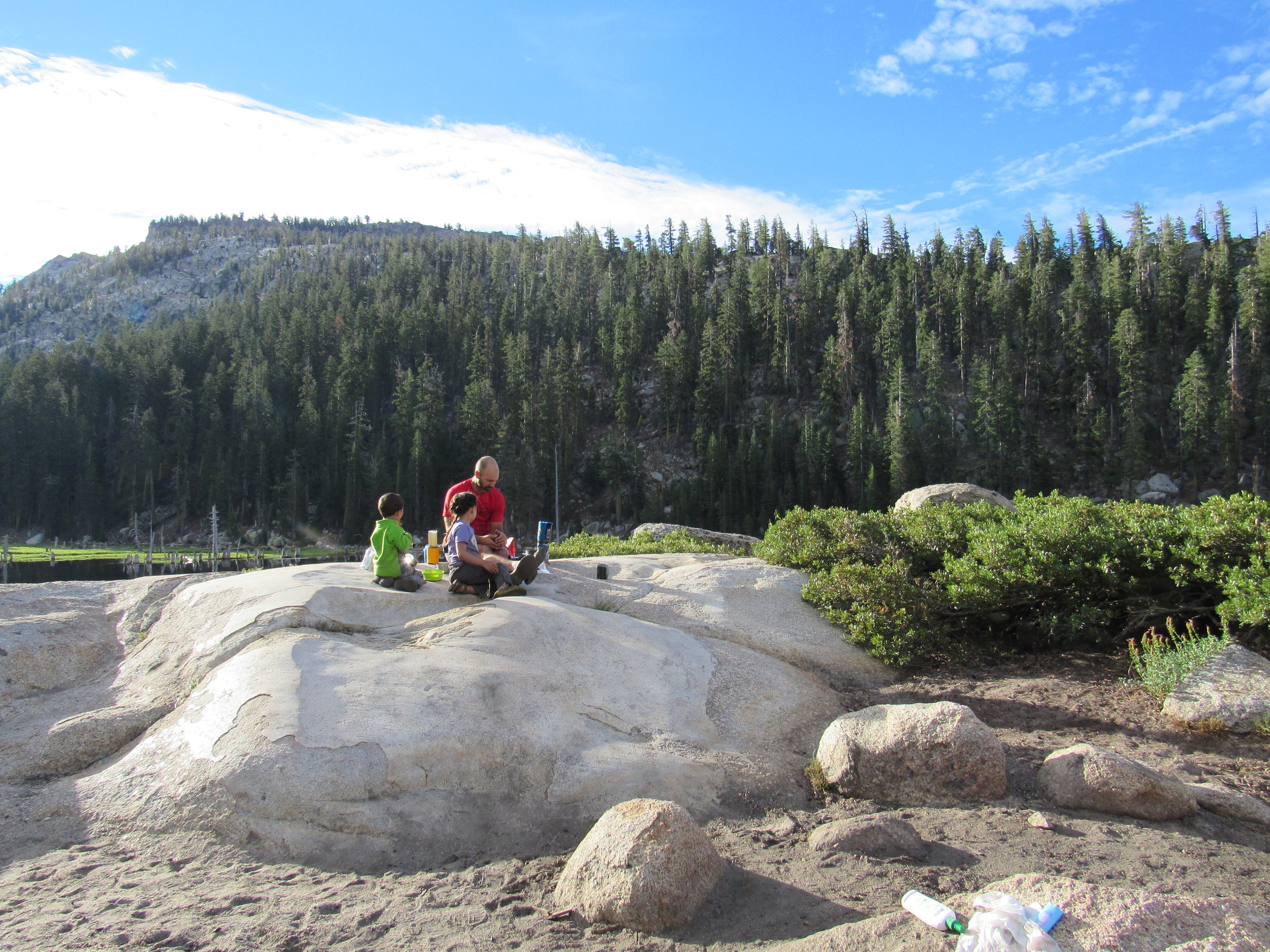 After breakfast we headed down to lake and while the kids started fishing I began filtering lots of water. Once it warmed up enough I convinced my husband and kids to swim out to a little island. Our kids have never actually swam in an alpine lake so it was very intimidating for them to swim to the island, plus the water was pretty cold. My husband finally went on a solo swim, then I did and then we took our two older kids to the island. Our kids know how to swim but it was quite different from a pool Let's just say after our adventure to the island our kids decided that they would work on their swimming skills when they got home.
No fish were caught again, lots of water was filtered and it was time to finish packing up camp. We were still debating if we were going to continue to a near Piute Meadow but my headache was still lingering and it would have made our third day longer with a more elevation. My daughter was happy but on the edge and my toddler decided that since "daddy" was there he would just give up hiking so he could be carried. My toddler can hike 2-3 miles when he is alone with me but when my husband is around it's a whole different story. Ah kids...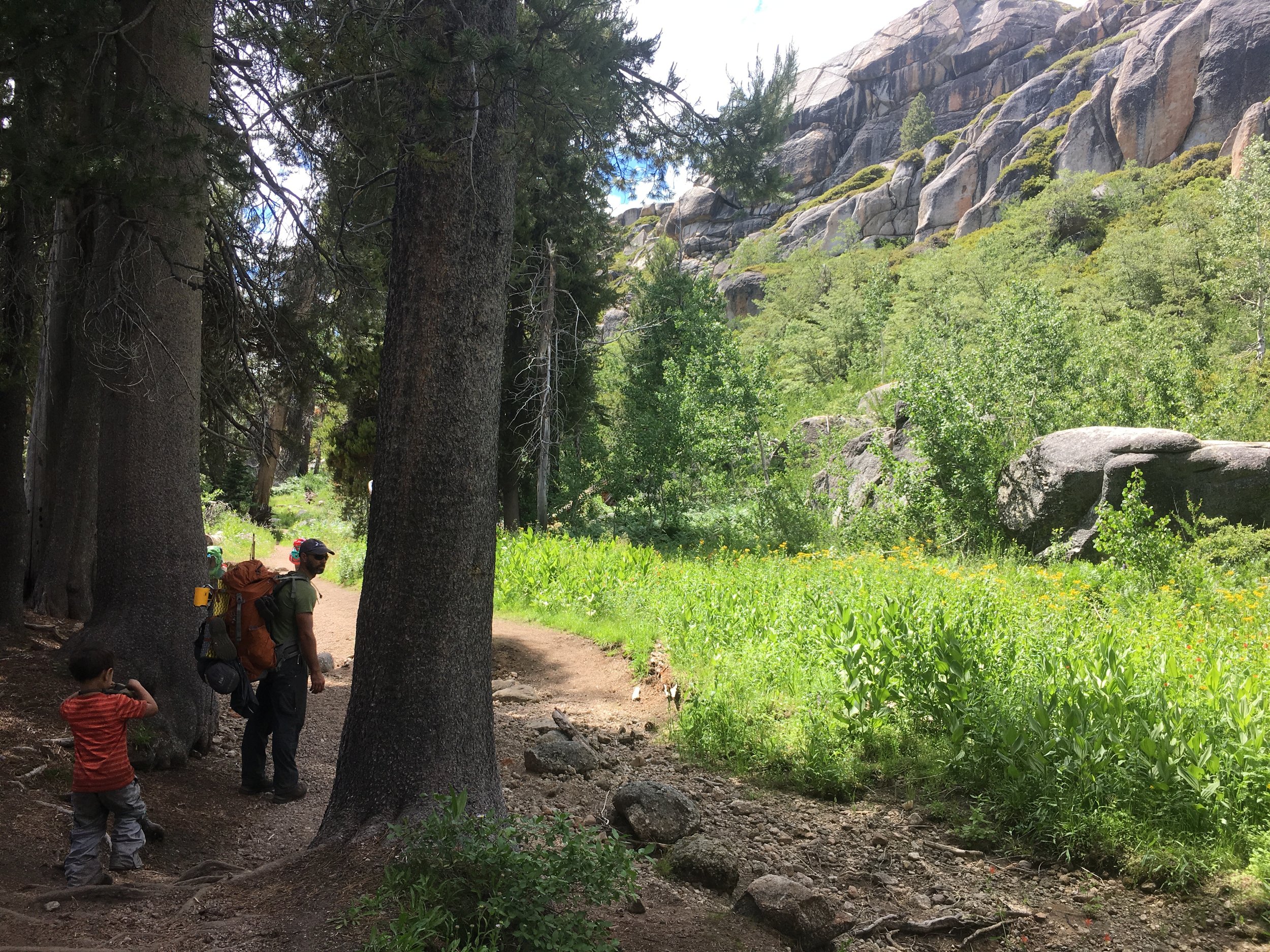 When we got to the split off to Piute Meadows we decided to keep heading back to the car since my daughter and eldest son were hiking so fast. We stopped for an extended break at Camp Lake again for some more fishing and swimming, which backfired a little bit because my daughter just about lost it in the half mile. I mean we could see the car and she fell apart, but she made it back to the car and in about 10 minutes she was happily splashing in Bell Creek.
It was late afternoon so we camped at Crabtree Trailhead, which is pretty much a backpackers campground. Many backpackers were arriving way into the late night to start hiking early the next morning. I think we were all happy to be camping near our vehicle, my headache was calming down, we had a belly full of pasta and headed off to a good night rest.
You can also join in on my Social Media, which is updated daily with outdoor activities. Join in on the conversation by leaving a comment below!